Maze allows you to conduct user testing with the prototypes you've imported. If you've imported your prototype but are missing screens, these steps may help you resolve the problem.
Solution
Figma: Confirm that the frames are accessible with a hotspot
When importing a Figma prototype, Maze can only access the screens that are accessible via a hotspot. Any screens that cannot be navigated via a hotspot from the initial screen will be left out. Please ensure that all relevant frames are accessible in Maze by adding multiple flows.
In the example screenshot below:
A: The screens in the A group are linked in the same flow, and will be visible in Maze.
B: On the other hand, the screens indicated in the B group will appear as missing in Maze. To make them accessible by Maze, you'll need to add them as a separate flow.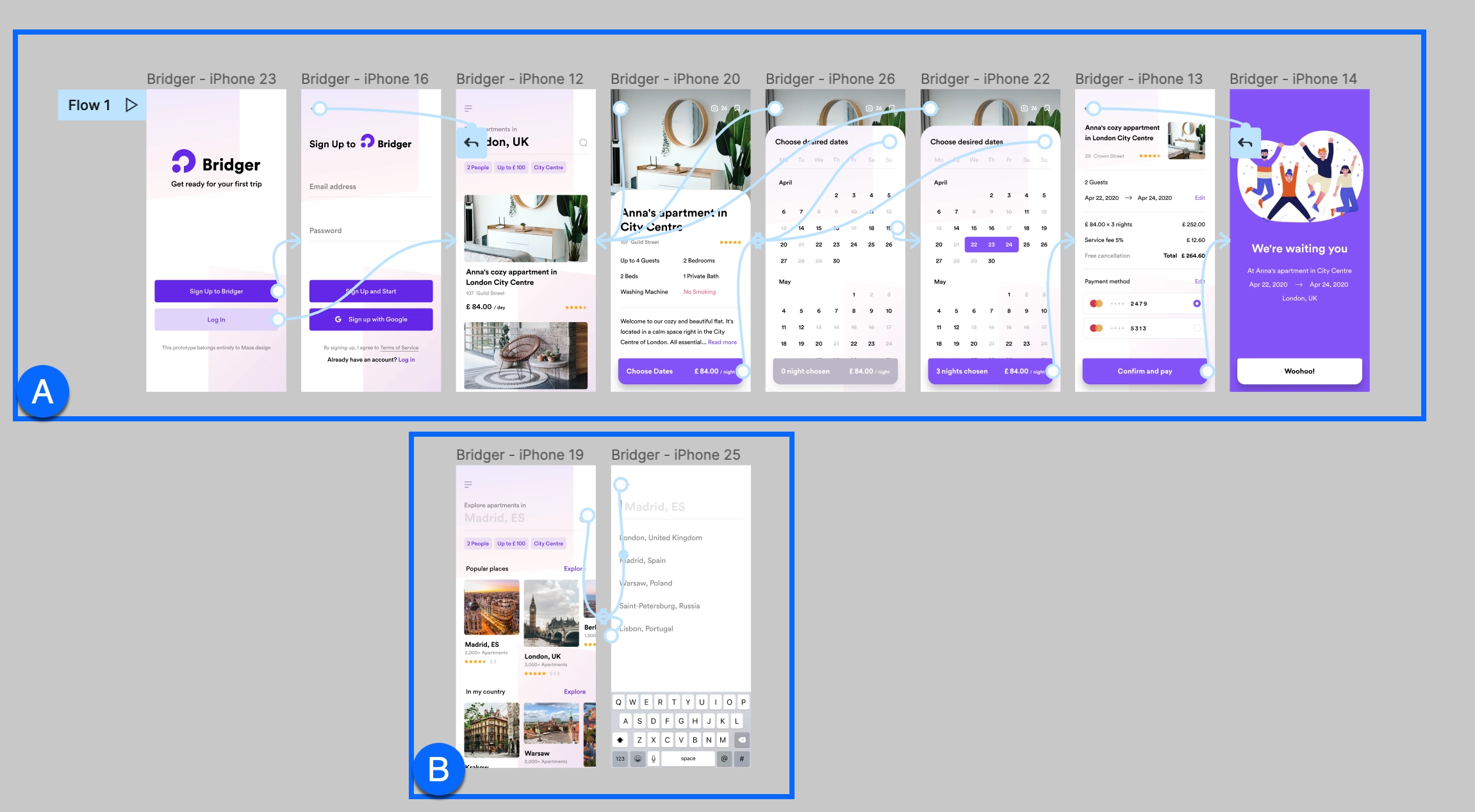 Sketch: Ensure that you're importing your prototype URL
If you haven't yet defined a prototype for your Sketch file and just import the file URL, you may see some screens and hotspots missing from the prototype in Maze.
Learn more: Why are screens missing from my Sketch prototype?
InVision: Review your share link permissions
Many issues with missing screens occur when creating the share link in the prototype tool.
If you have missing screens after importing a prototype to Maze, the first thing to check is whether the share link you generated in your prototyping tool is restricted to a subset of screens.
Review the documentation for your prototyping tool and verify that you have generated an unrestricted share link.
For InVision especially, be sure that you have generated your share link as described in this article, and not using other methods that limit the share to a specific subset of screens.
Still need help?
If you have any questions or concerns, please let our Support team know — we'll be happy to help!