Not sure where to start with Maze? Follow this step-by-step guide and learn how to:
Step 1: Create an account
Sign up to create a free Maze team.
When you sign up, you'll receive a verification email. Click on the verification link in your email to verify your account. This step is required to activate your Maze account.
You can learn more about the features included in each plan here: maze.co/pricing 
Step 2: Create a project
After signing up, you will be taken to your projects dashboard. To start testing, you need to create a project. Projects act like folders, where you can add multiple mazes.
For more details on how to create a project, check out this article: Creating a project 
Step 3: Create your maze with blocks
A maze is a succession of tasks and/or questions for testers to complete. For more details on how to create your first maze, please see this article.
We add these tasks, questions, and any other extra screens using blocks. Read our short guide to all maze block types.
Use mission blocks to add a prototype to your maze.
Learn more
Step 4: Set maze options
You have a few options available for customizing your maze. To learn more, check out this article: Options for your maze
Step 5: Preview
Previewing a maze is a great way to ensure your test flows nicely, and that your users are seeing what you want them to see.
Once you send your maze live, you won't be able to edit it. Testing it beforehand will help ensure you and your team are completely happy with the content and performance.
To preview your maze:
Open a maze draft, or create a new maze, to see the Maze Builder.
Click on the Preview button in the top right corner.
This will allow you to see how your testers will experience your maze without recording any data.

Step 6: Start testing
When you're happy with your maze, click Start Testing in the top right corner. This will send your maze live and create a unique link that you can share with your testers. You'll also be able to hire testers from our panel.
Before sending your maze live, make sure you're completely happy with the content and performance, as you won't be able to edit it once you start testing. We don't allow editing a live maze to avoid misleading results based on the changed variable(s).
If you need to edit a live maze, you must duplicate it, make the changes, send it live again, and share the new link with your testers.
Testing your maze
Once your maze is live, you can start testing it with people. There are a couple of ways to get your maze tested: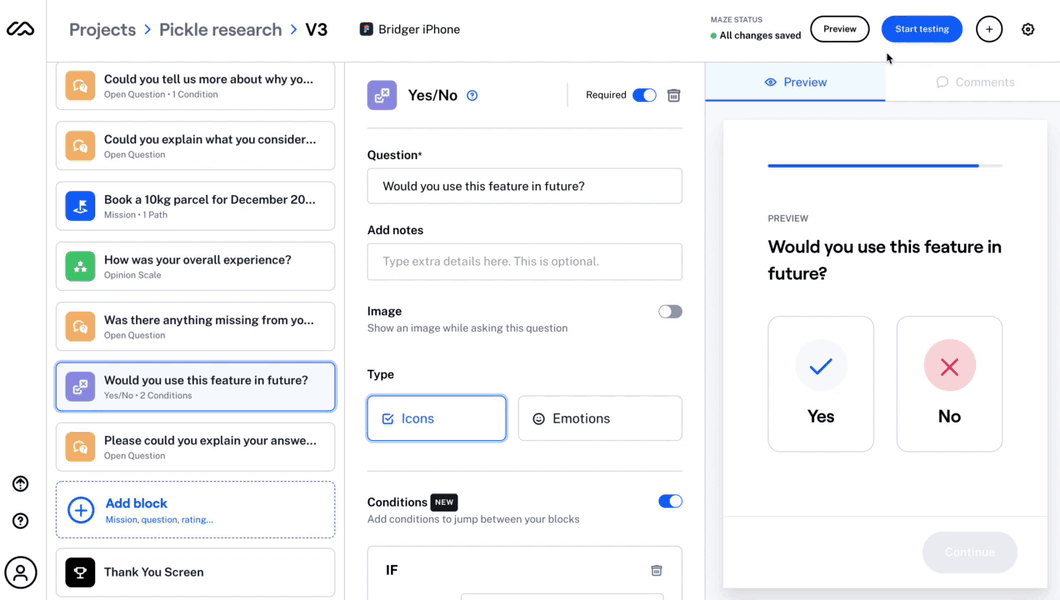 Step 7: Set link options
There are two options for your maze link. To access these options, click Copy your link.
You can also add parameters to your maze link to record custom metadata about individual sessions.
Learn more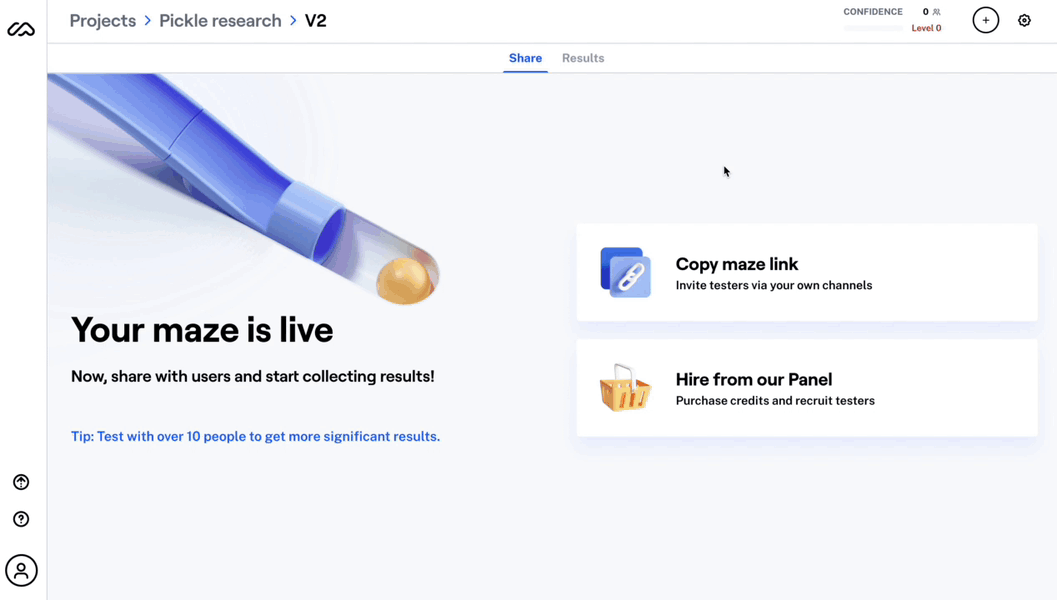 Step 8: Analyze results
When testers begin testing your maze, you will start seeing the results in your dashboard in real-time. You can access your results on the live maze page.
Learn how to access and read your test results using this guide: Understanding your results
Step 9: Get your maze report
In addition to your results, Maze automatically creates a report for you to review and share with your colleagues, executives, and stakeholders. A report is created for every maze tested with at least one participant.
Learn more here: Your maze reports
Step 10: Do more with Maze
You can also use Maze to:
Bonus: Additional resources