In this article:
What are templates?
Templates in Maze are a quick and easy way to solve a particular problem using a library of pre-built mazes.
Once you find a template you like, you can use it to create a new maze and add pre-populated blocks to get started right away. If you need to add more questions or tweak the maze, you can make changes, just like you would in any other maze.
You'll find templates broken down into two main categories:
Basic: These templates don't require any paid features, and can be used by Free customers right from the start.
Pro: These templates use one or more features that require a paid subscription, thus are only available to customers on a Starter plan or above. These templates are marked in the templates list with a PRO label.
Where can I find templates in Maze?
You can find a preview of all our available templates in maze.co/templates
Additionally, you will also see the templates library right after logging in, when clicking the View Templates button on the top right corner.
To learn more about how to kickstart a new project using an existing template, check out this article.

Creating a new maze from a template
Depending on the version of Maze you're using, you can also apply a template when creating a new maze. Clicking each template allows you to preview its blocks and questions. Click Use template to copy the template into a maze of your own, where you can freely customize and use all the pre-made blocks.
Custom templates
It is possible to create, save, and use your own custom templates.
Creating a custom template
To create a custom template:
Log into your maze account and open a project.
In the mazes list, click the ••• (more) menu to the right of the maze you want to save as a template.
From the drop-down, select Save as template.
Enter the name of the template.
Click Save.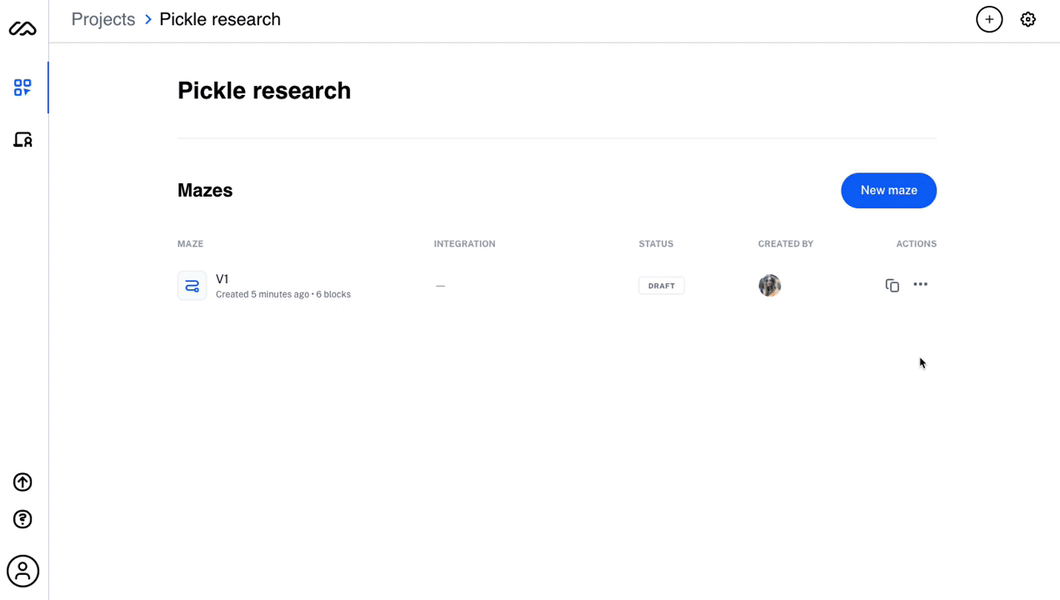 When saving a maze as a template, the original prototype link, as well as all mission paths are removed from the template.
Using a custom template
Your custom templates will appear at the top of the templates list.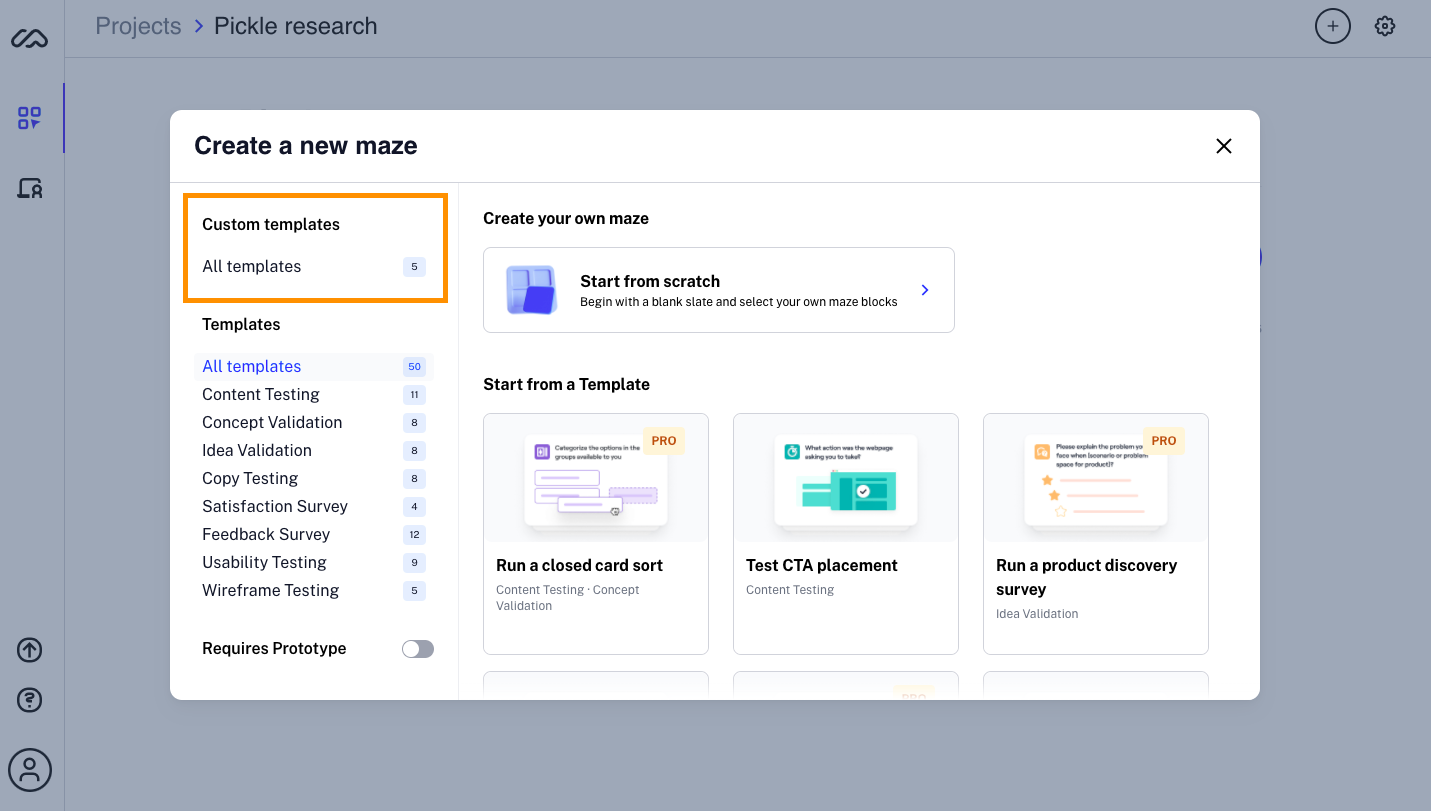 Managing custom templates
To edit the custom templates that have been saved for your team:
On your projects dashboard, click View templates.
Under 'Custom templates', select All templates.
Click each template, then click Edit this template.
Make all necessary changes. The changes are automatically saved.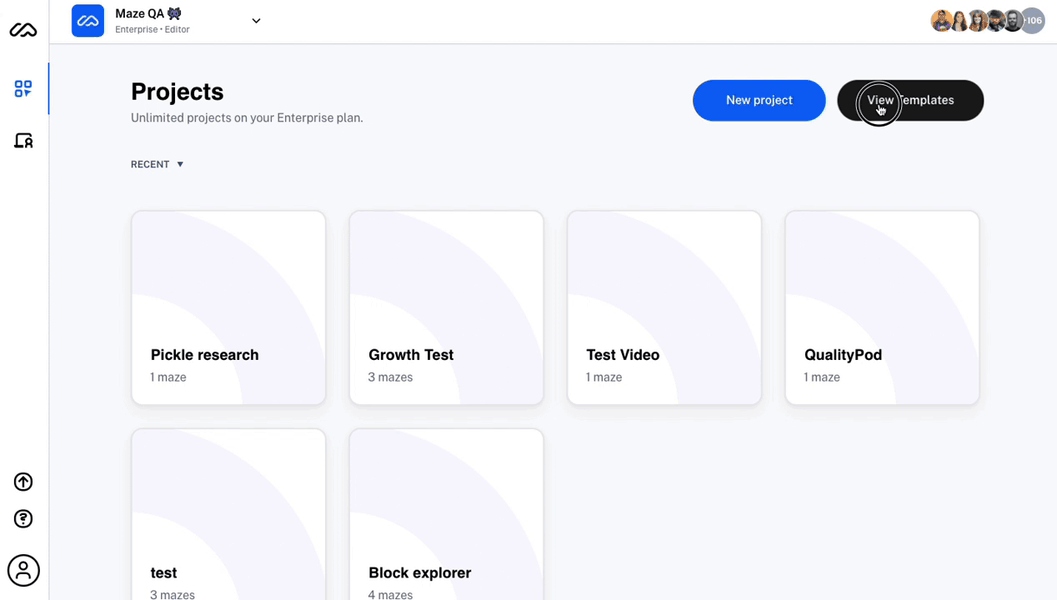 Click the ••• (more) menu to Rename or Delete a custom template.

FAQ - Frequently Asked Questions
I've got a great idea for a new shared template. How can I suggest it?
Is there something you find yourself manually creating in Maze a lot and you think others would benefit from it? Share a link to your Maze and your suggestion with our Support team so we can track your suggestion.
Why do some templates require a prototype and not others?
Currently, we do not let you add a prototype to templates designed to be used as Discovery projects while projects designed for User Testing must be created with a prototype since one cannot be added after it's created.
Can I add a prototype to a project I've created via template if I didn't add one when I first created it?
This isn't possible today, though we are looking at how we can continue to evolve Maze to meet the needs of our customers. If you'd like to be notified when this is possible, please let us know.