Upgrading your team will increase your project quota and give you access to paid features.
In this article:
Where can I learn about the existing plans and pricing?
Information about the most recent plans is available in maze.co/pricing. However, please note that the pricing and features available on your account may be different than what is listed on that page. Learn more
To confirm the plans and pricing that apply to you, please log into your account and review the information in app.maze.co/upgrade.
The Maze pricing is in US Dollars (USD).
Can I try Maze only for a month?
Absolutely! After upgrading, you can downgrade at any time. If you're looking for a trial, or only need to use Maze for a few months, all you need to do is:
Upgrade your team by following the steps above. Make sure to select Monthly billing.
Cancel the paid plan before the next renewal. How do I cancel my subscription?
How to upgrade your team
Starter plan
Before you start:
Prices are listed in US dollars.
We support payments with major debit/credit cards. Other payment methods (e.g. invoice, bank transfer, etc.) are not supported for the Professional plan.
A team can only be upgraded by its owner. If you're not the owner of the team you want to upgrade, be sure to share these instructions with them or, alternatively, ask Support to change the ownership of the team.
To upgrade to the Starter plan:
Select the team you want to upgrade.
Click Explore upgrades. You'll be taken to the upgrade page (app.maze.co/upgrade)

Under the desired plan, click Get started. 
Enter your card details, select any necessary additional seats, and use the toggle to select annual or monthly billing. 
If you have a discount code, click I have a coupon and paste the code. Learn how to apply a coupon
Click Agree and purchase to upgrade.

Team and Organization plans
The Team and Organization plans are Maze's most comprehensive plan.
To learn more about these plans, please send us a contact request using the Contact sales form in app.maze.co/upgrade 
Apply a discount coupon
If you have a coupon code, you should redeem it at checkout. To do so, click I have a coupon on the upgrade page and enter the code (e.g. EXAMPLE_CODE).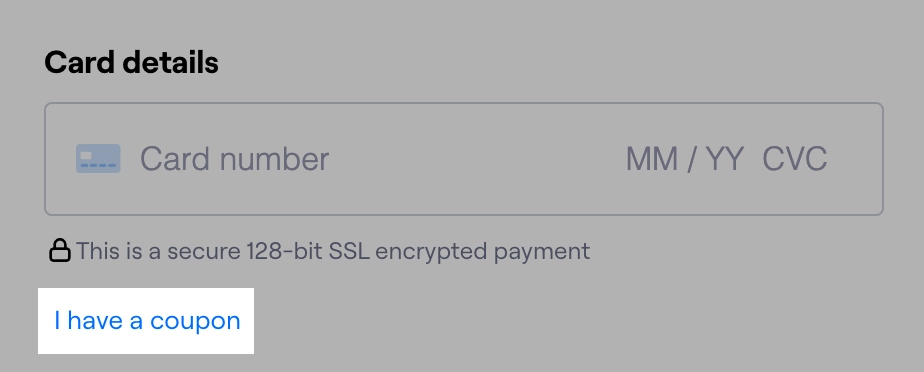 Please note:
The cost that appears during check-out won't update to reflect the discount. If the coupon code has been applied successfully, you'll see a "Coupon applied" indicator beside where you entered the coupon code. If you do see that indicator, you can rest assured that the discount will be reflected in the actual charge, as well as in the receipt that you'll find in your billing section.
Upgrading your account (with or without a coupon) will always start a recurring subscription that renews automatically. If at some point you want to stop your paid plan, be sure to cancel your subscription.
Where can I find my invoices?
After you upgrade, your subscription invoices can be downloaded directly from your Maze account by the team owner or an admin.
Learn how to access your invoices
Cancel the upgrade
All Maze subscriptions renew automatically either monthly or annually, depending on the billing option you selected when upgrading. 
If you want to cancel your paid subscription, please contact our Support team. Learn more here: How do I cancel my subscription?
Still need help?
If you have any questions or concerns, please let our Support team know — we'll be happy to help!