There's no hard limit to the number of blocks a maze can have.
However, it's only possible to hire panel testers for mazes with a maximum estimated length of 30 minutes. This limitation is in place to ensure that testers are compensated fairly for their time.
In some countries, this maximum length may be shorter. Learn more
How do you estimate the length of a maze?
Maze length is determined by counting all blocks within the maze, assuming that each block requires 1 minute to be completed.
In cases involving conditional logic, the count is based on the longest potential combination of blocks.
Workarounds
If you see a "Your maze will take over 30 minutes" error, you won't be able to hire panel testers for that maze.
To hire testers, you'll need to shorten the maze either by hiding blocks in the maze, or splitting it into two shorter ones.
A) Hide blocks to reduce the length of the maze
You can shorten the maze by going back to the maze editor and hide non-essential blocks.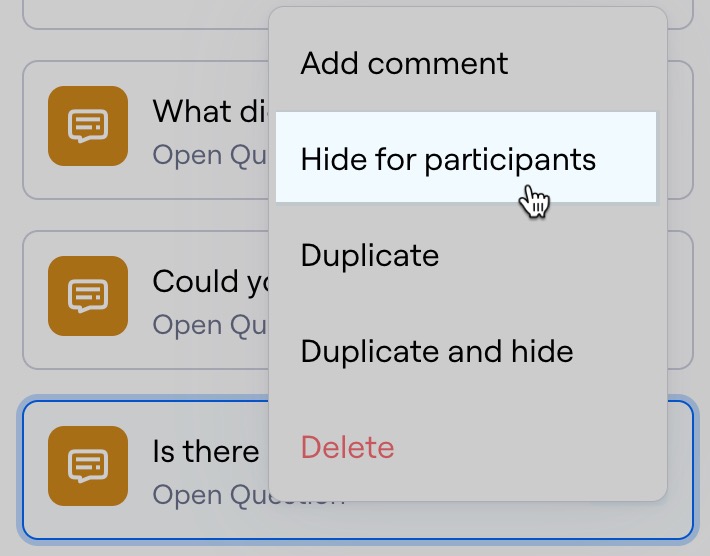 B) Split maze into two shorter ones
If hiding blocks in the maze is not an option, you can also divide the maze into two separate ones.
To do so, duplicate the original maze. Then, make the necessary edits to create two shorter mazes.

If you're on a paid plan, you can add a
redirect
to send testers from the first to the second maze.
Exceptions
Please keep in mind that certain countries have a shorter limit to ensure testers are paid fairly.
If these specific limits are exceeded, you'll be notified and can either shorten your Maze, or explore audiences in other countries.
| | |
| --- | --- |
| Country | Maze length limit (mins) |
| Iceland | 20 |
| Norway | 20 |
| Switzerland | 20 |
| Denmark | 25 |
| Sweden | 25 |
Still need help?
If you have any questions or concerns, please let our Support team know — we'll be happy to help!