When you import your prototype into Maze, all frames and pages within that file have to be loaded and processed. This might cause importing issues, or make your prototype slow to load and respond for testers.
Importing your working file with potentially hundreds of additional frames instead could make it impossible for testers on mobile devices to take the test.
We highly recommend creating a dedicated testing file to test in Maze. This ensures shorter loading times and decreased payload for testers.
In this article:
How to create a dedicated testing file
Duplicate your working Figma file, then use that copy only for testing with Maze.
Clean up any pages, frames, assets, images, and elements not relevant to testing before importing. This ensures a clean and lightweight testing file.
Guidelines for your testing file
Add a note
Add a clear note to your test file showing that it's linked to a live maze.
This step helps keep everyone on the same page with working files and testing files, and prevents unwanted changes in testing files.
Permissions
Figma requires access to your entire file in order to load the prototype. This means that you must set the permissions for your test file to Anyone with the link can view.
Otherwise, the import will fail. Updating these settings after import will prevent testers from opening the maze.
Note selecting Anyone with a link [can view prototypes] will also result in an error, since Maze needs access to the file as well.
Learn more about the supported permissions for importing and testing Figma prototypes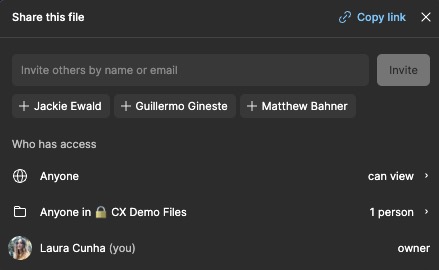 Compress images
Figma doesn't compress images by default. Compress your images before uploading them to Figma to avoid loading heavy images. This is especially important if working with elements containing large embedded photos (e.g. avatars), which may lead to very large file sizes.
Use JPG for any images that contain photographic elements. PNG cannot handle large numbers of colors (such as in a photo) without increasing the file size significantly.
While we don't endorse specific plugins, you may find plugins such as Downsize useful to compress and convert images quickly.
Copying images as PNG (⌘⇧C) and pasting them on the same image container may also help. This will automatically replace the image with a compressed version the same size as the canvas.
Limit the number of pages
Remove all pages except the one that contains the prototype you're testing.
Removing pages that are not relevant to testing helps ensure a clean and lightweight testing file, and prevents import errors.
Limit the size and number of frames 
Importing a file containing large frames or too many frames could severely impact loading times, and cause issues when importing and testing. Figma has to use up memory to render frames; the bigger and more numerous the frames, the more memory Figma needs.
Very tall frames in particular can cause trouble for testers as iOS limits the size of images that it will display and Figma frames count as images for this limit.
Sizing down your prototype to match the scope of the test makes creating a test a lot smoother. Limit the number of frames in your prototype to the ones you need for testing.
Avoid duplicating entire frames just to change the state of one element on the screen. Consider using overlays or interactive components when possible to reduce the number of frames in your test.
Streamline custom fonts
Because of the way Figma works, custom fonts can also impact the size of your Figma prototype. Any custom fonts need to be downloaded before testers can view your Figma prototype.
As a result, too many custom fonts or very large individual font files can negatively impact the loading times of your prototype. Depending on how large the font files are, this may even prevent testers from viewing your prototype on mobile devices.
If using a custom icon font, consider converting the icons to outlines to minimize the usage of custom fonts.
For tips on how to optimize your custom font file, see the following external articles:
Preview
Previewing is a great way to ensure your maze flows nicely, and that your users see what you want them to see.
Testing your maze beforehand will help ensure you and your team are completely happy with the content and performance. Please note that certain changes aren't allowed after sending a maze live.
To preview a draft maze:
Open the maze builder.
Click on the Preview button in the top right corner.
To preview a live maze, you can also disable tester tracking in the share link options.
This will allow you to see how your testers will experience your maze without recording any data.
Troubleshooting Figma issues
When importing and using Figma prototypes, you might run into certain issues. Follow our advice to ensure your prototype works as expected in Maze. 
Learn more about troubleshooting Figma errors
Still need help?
If you have any questions or concerns, please let our Support team know — we'll be happy to help!