Collect actionable design and usability insights to build better products.
If you use Figma to design and build your prototypes, you can import them into Maze to test your designs with users. 
In this article:
Create a testing file
To take advantage of the fast and efficient testing provided by Maze, we recommend creating a dedicated file for testing. This ensures shorter loading times and decreased payload for testers.
Learn how to create a lightweight file to test in Maze
Setting the correct permissions in Figma
File permissions
Figma requires access to your entire file in order to load the prototype. This means that you must set the permissions for your Figma file and prototype to Anyone with the link can view.
Otherwise, the import won't succeed. Updating these settings after import will prevent testers from opening the maze.
Learn more about the supported Figma permissions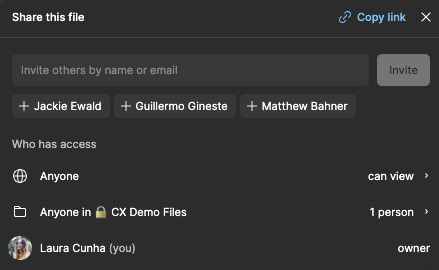 Password protection
Importing password-protected Figma share links into Maze is available to Organization plan customers.
Learn more about importing password-protected files
Importing a Figma prototype into Maze
We're currently rolling out an update in the import flow. This article covers the latest version of the prototype import flow, which is currently being rolled out in stages.
Before you start:
To import a Figma prototype, you must have a Figma account.
To import your prototype into Maze:
Open the maze where you want to use the Figma prototype.
Add a prototype test block. Learn all about prototype testing in Maze
Click Add prototype. 


If you're importing for the first time, select Figma as your default prototyping tool.


If you're importing a prototype for the first time, or have disconnected Maze from Figma, you'll be asked to log in to your Figma account and allow access to Figma. What Figma data can Maze access?


Review the import instructions and click Continue.


Paste your Figma prototype link. Please ensure that your file permissions are set to Anyone with the link can view. Learn more about the supported Figma permissions
Once the prototype finishes loading, click Import. Alternatively, if you're trying to import a very large file, you can import via the Figma plugin instead. Learn more about importing large files with the Figma plugin

You can also add other block types to your test as needed — e.g. to include any follow-up questions. Learn about the blocks you can use in Maze
Importing using the Figma plugin
The Maze plugin in Figma makes it faster and more reliable to import very large Figma files into Maze.
Learn more about the Figma plugin
Maze settings
Click the Settings icon (
) on the top right corner to access the maze settings — e.g. prototype scale, maze password protection.
Troubleshooting
When importing and using Figma prototypes, you might run into certain issues. Follow our advice to ensure your prototype works as expected in Maze. 
Learn more about troubleshooting Figma errors
Still need help?
If you have any questions or concerns, please let our Support team know — we'll be happy to help!