Matrix tables consist of multiple rating-scale questions (i.e. Likert, semantic differential scales, SUS) that share the same response options (e.g very satisfied to very dissatisfied). They're great to use when you want to gather a lot of feedback quickly and combine multiple questions together on the same screen. You can use matrix tables to gauge user sentiment and gather feedback on a specific theme or set of questions.
At the moment, Maze doesn't directly support matrix tables, but you can use the Card Sorting block to achieve a similar effect. Alternatively, you can always create separate Opinion Scale blocks for each question.
Best practices
Find best practices and examples of matrix tables (and other question types) in our Survey Design guide.
System Usability Scale (SUS)
The System Usability Scale (SUS) is a 10-question usability survey. Participants rank each question about your product with 5 response options, from 5 (Strongly Agree) to 1 (Strongly Disagree).
You can use the workaround described in this article to collect and analyze SUS answers. Alternatively, if you're on a paid plan, you also have the option to apply the SUS template, which uses 10 separate opinion scale blocks.
However, please keep in mind that, at the moment, not this workaround nor the template will automatically calculate the SUS score for you.
Create matrix table questions using a Card Sort block
To create a matrix table:
Open your draft maze, or create a new one.
Choose Card Sort from the list of blocks. Learn more about card sorting
Under 'Card sorting type', select Closed card sorting.
Add categories corresponding to each point on the scale (you can find some examples below).
Add cards corresponding to each question/statement.
If needed, you can customize the instructions, shuffle the order of the cards, and fine-tune other settings before sending your maze live.
Scale point examples:
Agreement: Strongly agree, Agree, Neither agree nor disagree, Disagree, Strongly disagree
Frequency: Always, Often, Sometimes, Rarely, Never
Quality: Excellent, Very good, Average, Poor, Very poor
Satisfaction: Extremely satisfied, Satisfied, Neither satisfied nor dissatisfied, Dissatisfied, Extremely dissatisfied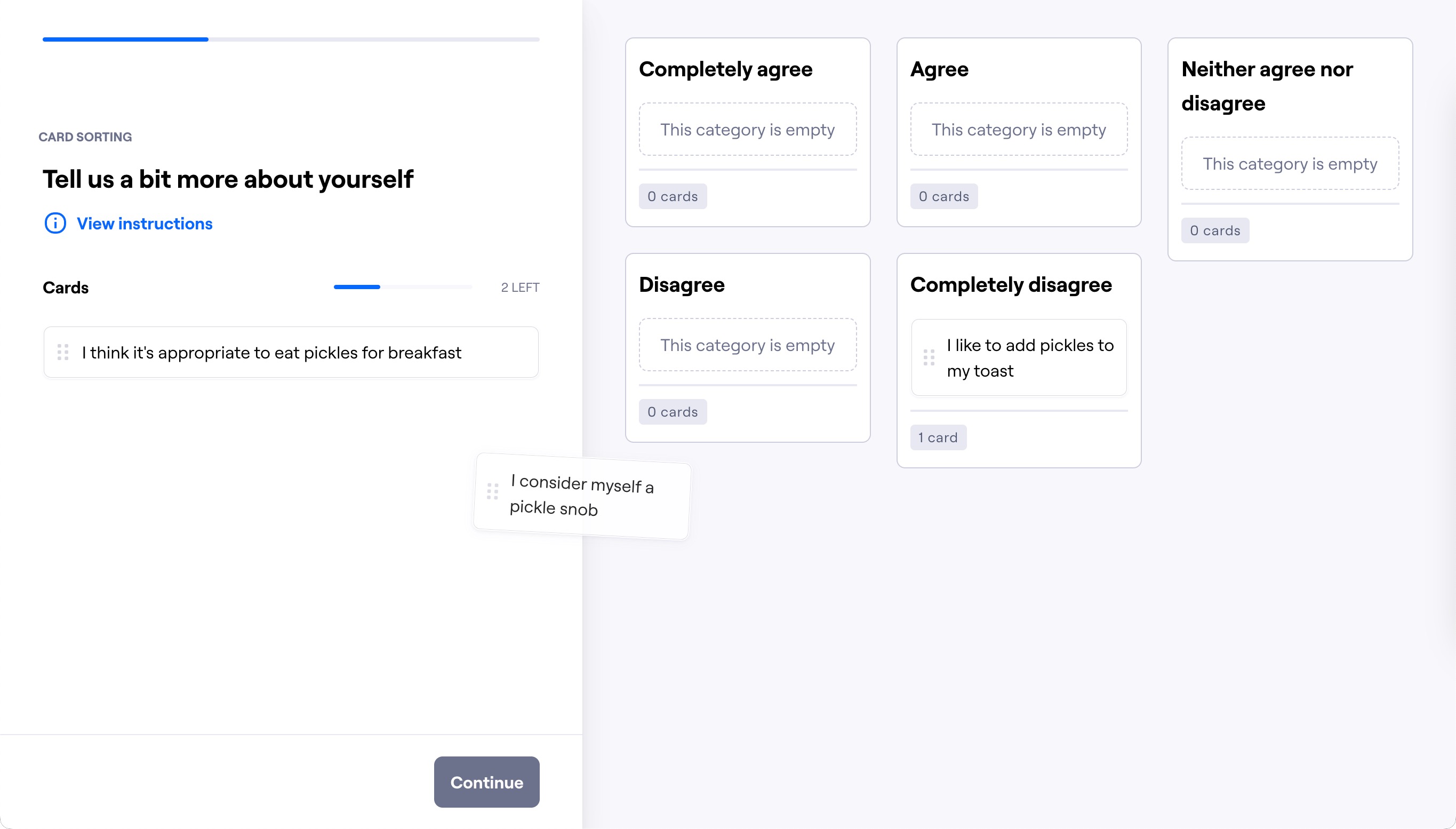 Analyze your results
As testers complete your live maze, you will start seeing insights on the Results dashboard. To learn more about how to visualize and understand your results, check out this article: Closed card sorting results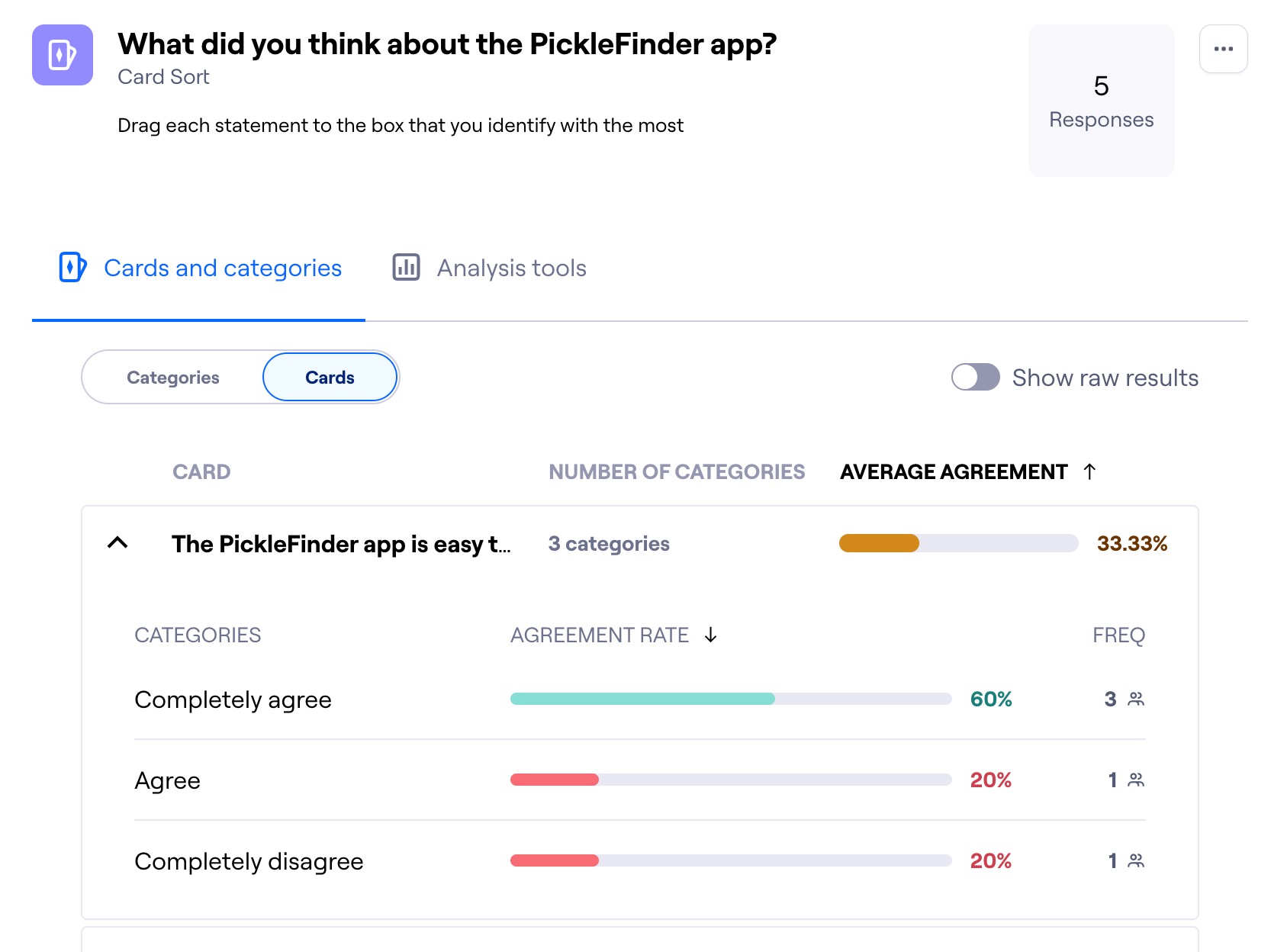 Use the agreement matrix for a visual representation of the most and least popular answers. You will wind the agreement matrix in the Analysis tools tab in your Results dashboard.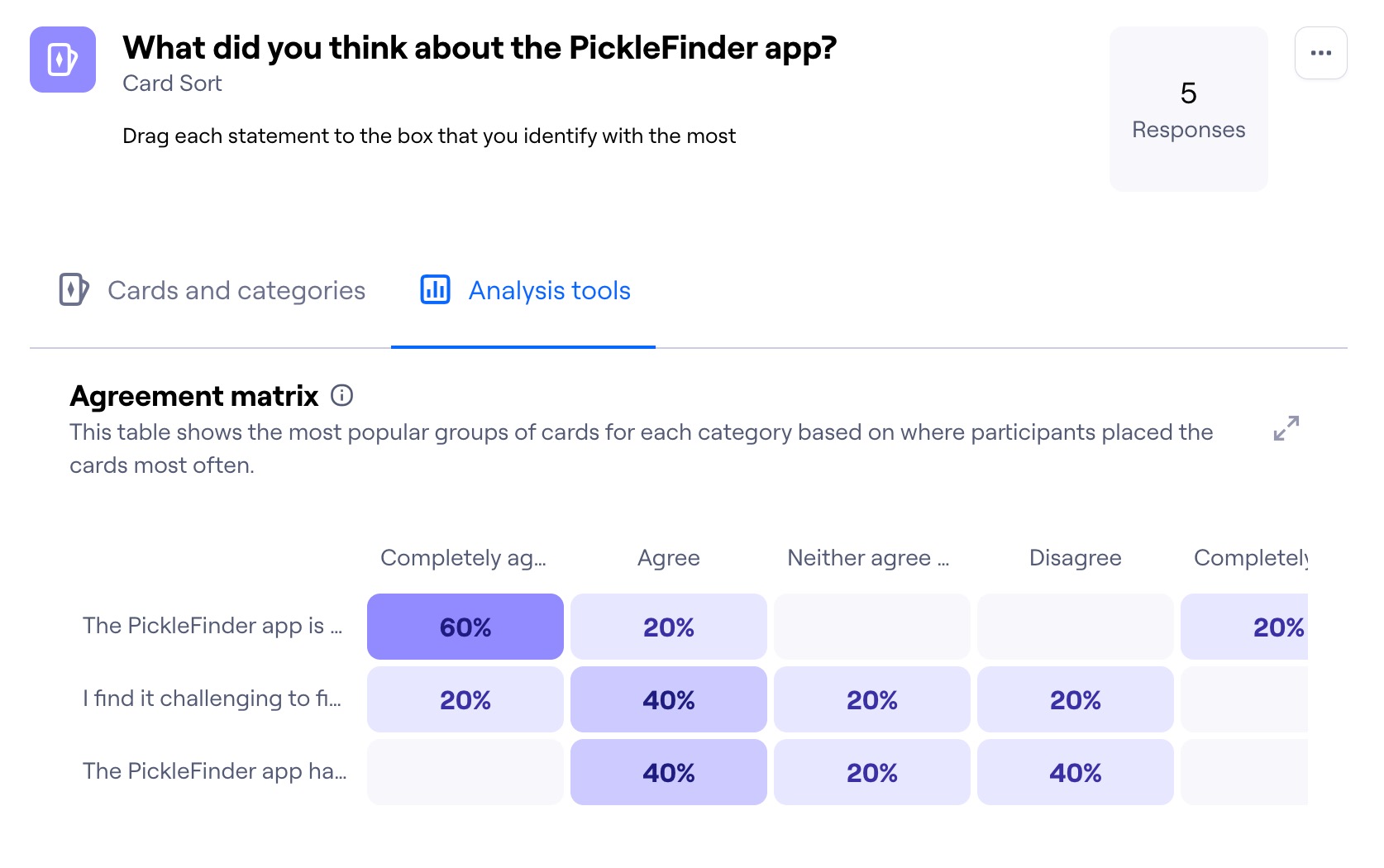 Export your results
To export your results data, open the More menu (•••) and click Export as CSV file or Export as image.