When ordering testers from the Maze panel, you will see a pool size estimation. This is the number of potential testers on the panel with the characteristics you've specified.
This figure is an estimation, not the number of testers that are guaranteed to see or take your maze. Responses may vary with factors such as the day/time you make the order and the length of your maze.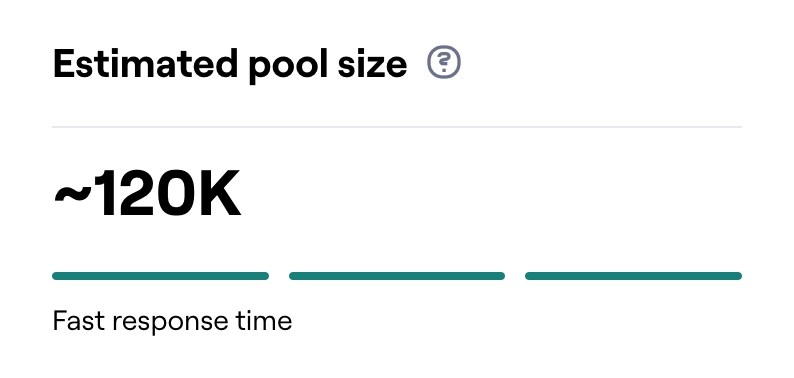 If the estimated pool size is smaller, you'll see the following warning:
Slow response time
Your available pool is very specific. If you want faster results, broaden it by changing your targeting criteria.
What are the implications of the estimated pool size on testing?
A larger estimated pool size means that the task will be available to more people, and your tester order will tend to be fulfilled faster.
Adding more specific targeting criteria will restrict the estimated pool size. Because fewer people will potentially see the task, the order may take longer to be fulfilled.
How to handle a small estimated pool size
Tester orders do not stop automatically; they will stay active until the number of testers you've selected has completed your maze.
If the estimated pool size is too small, the order might stall. That means it might take too long to receive all tester results you've purchased.
If the responses are coming in too slowly, you may stop the tester order at any time. Learn how to stop a hired test order
This will give you the chance to place a new order with less restrictive criteria.
Still need help?
If you have any questions or concerns, please let our Support team know — we'll be happy to help!