A Context Screen allows you to add a simple, extra screen to your maze. It is a simple way to communicate with your testers during their session. This can help you engage your testers and give instructions at the beginning, during, or at the end of your maze.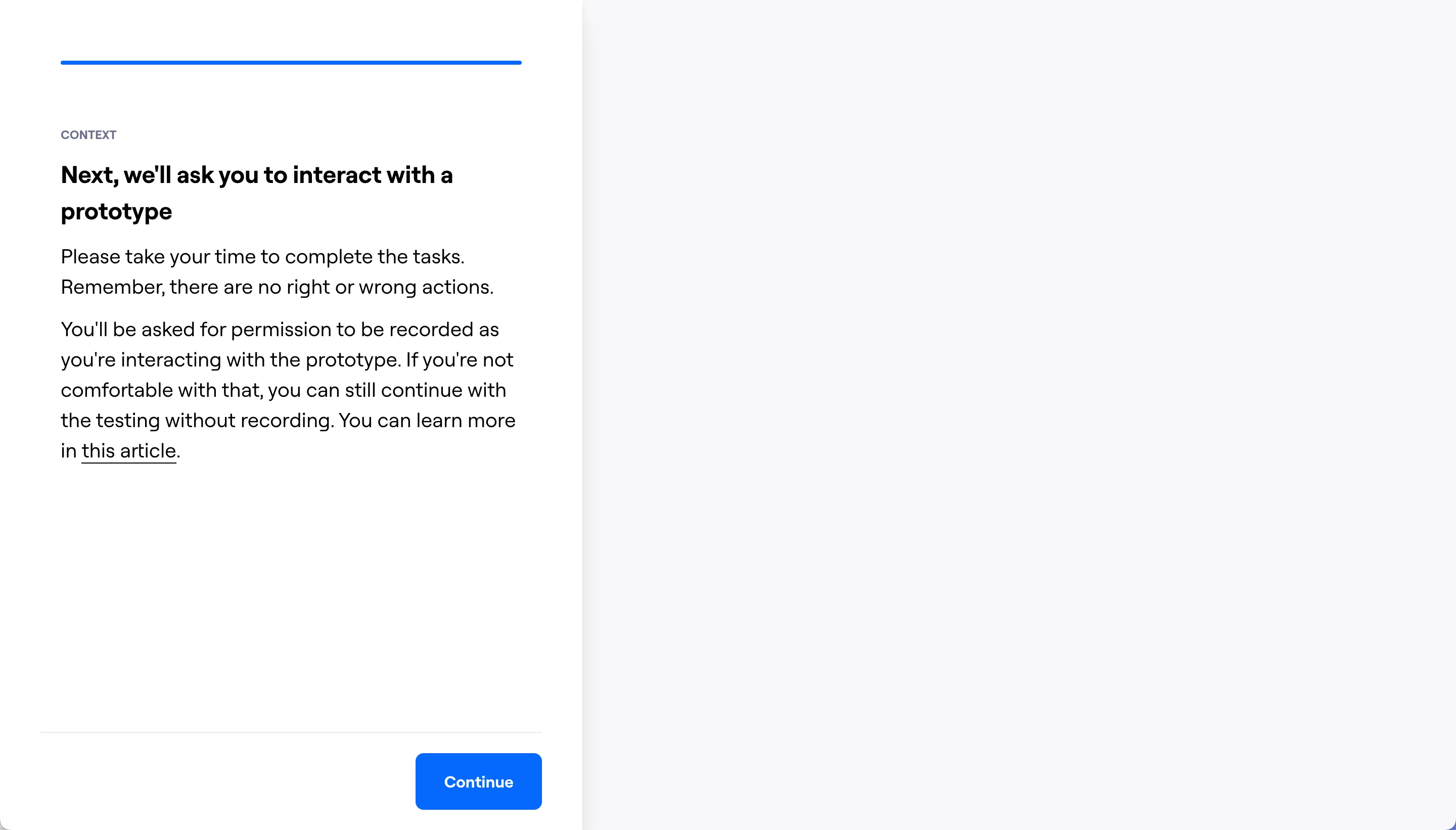 When to use a Context Screen
A Context Screen can be especially helpful in unmoderated (unfacilitated) remote user tests, where no one is present during the testing sessions. They can help you communicate with people while they test your maze.
Here are a few ideas for when you could use a Context Screen:
At the beginning of your maze: If you want to introduce yourself or your maze to testers by writing a longer description, you can add a Context Screen before they begin with the missions and questions.
Introduce a part of your maze: If your maze is composed of several parts (e.g. mission + questions or parts of different interfaces) you can add a Context Screen before the part begins to explain what's about to happen.
Before missions: If you want to explain the concept of a prototype test or a website test to testers and what they'll have to do in a few moments, you can use a Context Screen for that. This could be helpful with novice testers.
At the end of the maze: If you want to relay important information to testers before the Thank You Screen, you can add a Context Screen at the end.
Adding a Context Screen
Open your draft maze, or create a new one.
In the blocks list, click Add block, then select the Context Screen block from the drop-down.

Type your Message. Optionally, add extra details in the Notes.


If needed, include an image in the context screen. Maze supports GIF, PNG, and JPG files. The maximum image size is 1 MB. Learn more about using images alongside your questions

You can see how this block will appear to testers on the right-side Preview panel.