After canceling a paid subscription, your team will become inactive. This means that all features and projects' data will be locked. This is also the case if the subscription is automatically terminated due to payment issues.
To access the team's data, you'll need to reactivate and re-upgrade the team.
Please let our Support team know if you have any questions or concerns along the way.
Re-upgrading your team
A team can only be upgraded by its
owner
. If you're not the owner of the team you want to upgrade, be sure to share these instructions with them or, alternatively,
change the ownership of the team
.
To reactivate an inactive team:
Click the account icon at the top left corner.


Open the inactive team. It will be labeled Reactivate.


In the reactivation modal, click Reactivate Team.

Pick the number of seats in the team, the billing cycle (monthly or yearly), and enter the card details.
When you're ready, click Agree and purchase. This will start your auto-renewing subscription again.
Applying a discount coupon
If you have a coupon code, you should redeem it at checkout. To do so, click I have a coupon on the upgrade page and enter the code (e.g. EXAMPLE_CODE).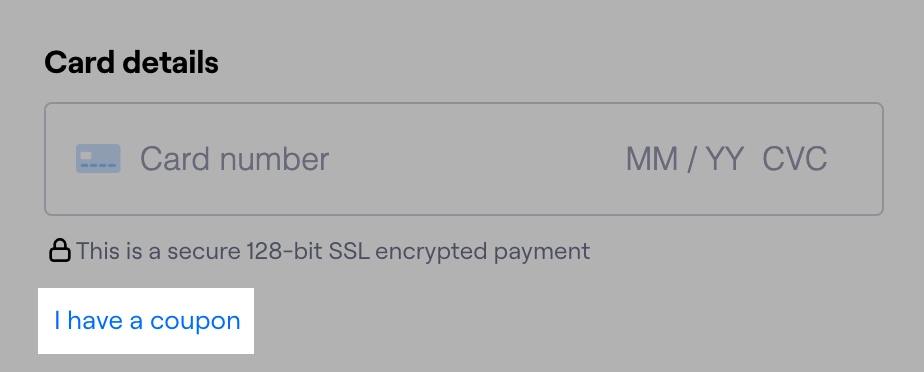 Please note:
The cost that appears during check-out won't update to reflect the discount. If the coupon code has been applied successfully, you'll see a "Coupon applied" indicator beside where you entered the coupon code. If you do see that indicator, you can rest assured that the discount will be reflected in the actual charge, as well as in the receipt that you'll find in your billing section.
Upgrading your account (with or without a coupon) will always start a recurring subscription that renews automatically. If at some point you want to stop your paid plan, be sure to cancel your subscription.
Still need help?
If you have any questions or concerns, please let our Support team know — we'll be happy to help!