In this article:
What is a maze?
A maze is a succession of questions and/or tasks for testers to complete. It is the fundamental unit for testing in Maze.
Each maze has its own results and reporting, and test results are collected on a per-maze basis.
Create a maze
To create a maze, you need to first create a project, since all mazes must belong to a project. Learn how to create your first project
To create a new maze:
Decide whether you want to create your maze from scratch, or prefer to use a template to add recommended blocks to your maze:

To begin with a blank slate, select Start from scratch. You'll be taken to the Maze Builder, where you can choose the blocks you need to create questions.
Alternatively, you can explore our gallery of pre-built mazes. Clicking each template allows you to preview its blocks and questions. Click Use template to copy the template into a maze of your own, where you can freely customize and use all the pre-made blocks. Learn more about templates

After you've created your maze, you'll need to add any additional blocks you want to use in your testing. If you're going to be testing a prototype, you'll need to add a Mission block where you'll have the option to link your maze to a prototype built using a supported tool.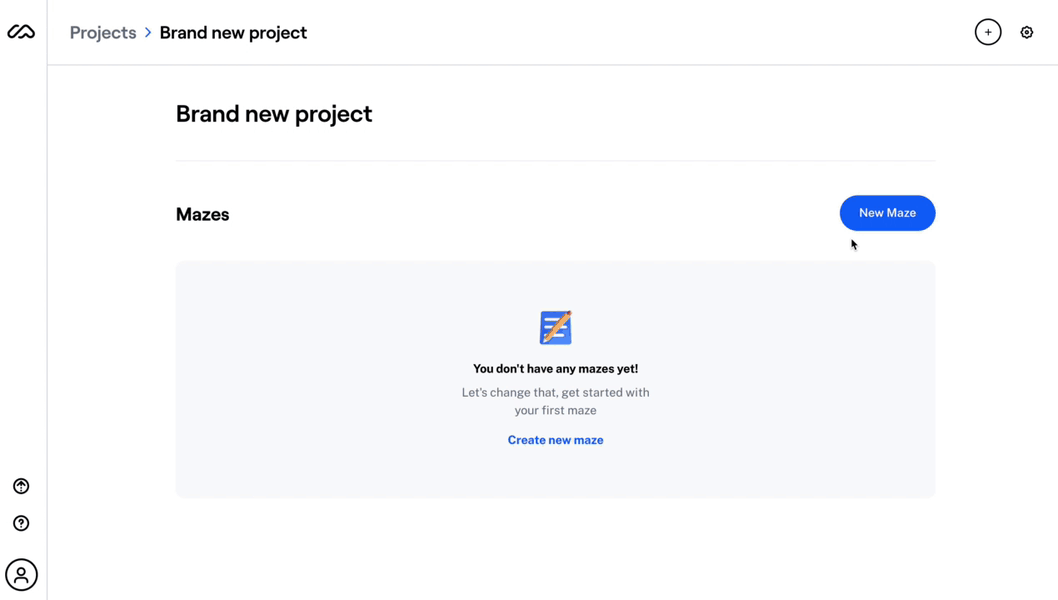 Add blocks
To add tasks, questions, and any other extra screens to your mazes, you will use blocks. For instance, you will add a block to test a prototype, or to run a card sorting exercise. Learn more about all block types you can use
You don't have to start from zero when adding blocks! Pick a
template
to start from a pre-built maze.
Enable user recordings
If you're on a paid plan, you can capture audio, video, and screen recordings of asynchronous user tests, without having to schedule and run live moderated research sessions. Learn more about Clips
Maze options
You have a few options available for customizing your maze. To learn more, check out this article: Maze settings
Preview your maze
When you're done creating your maze, you can preview how it looks by clicking on the Preview button in the top right corner. This will allow you to see how your testers will experience your maze without recording any data. Learn more here: Previewing your mazes before publishing
Publish your maze and start testing
When you're happy with your maze, click Start Testing in the top right corner. This will send your maze live and create a unique link that you can share with your testers. You'll also be able to hire testers from our panel.
Before publishing your maze, make sure you test it extensively until you're completely happy with the content and performance, as you won't be able to edit it once you start testing. We don't allow editing a live maze to avoid misleading results based on the changed variable(s).
If you need to edit a live maze, you must duplicate it, make the changes, send it live again, and share the new link with your testers.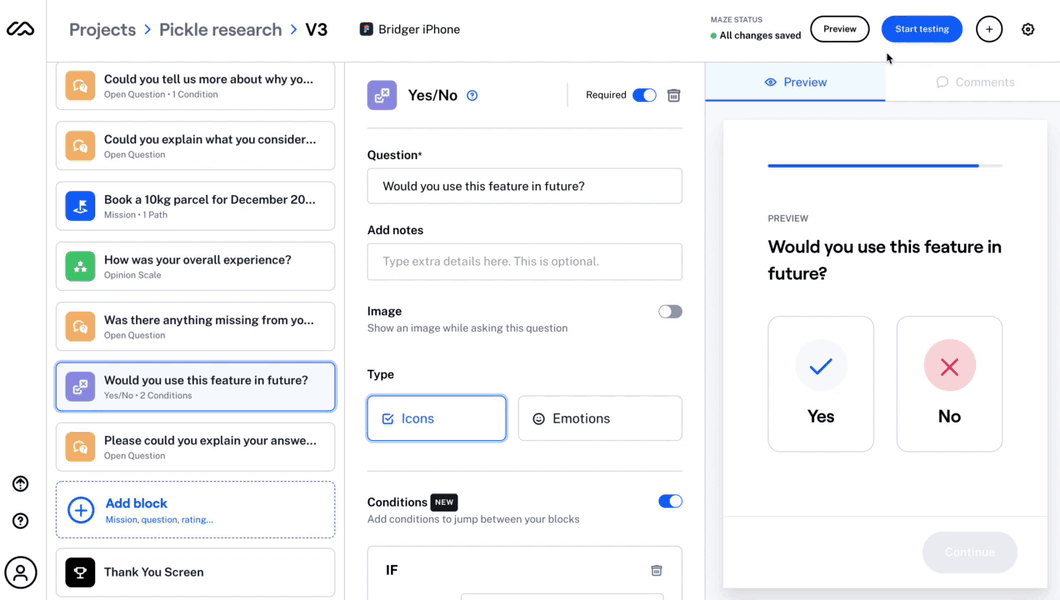 Once your maze is live, you can start testing it with people. There are different approaches to get your maze tested:
Copy your link: Share a link to your maze via your own channels. Learn more
Send Reach campaign: Email your participant database. Learn more
Hire from our Panel: Recruit testers from our panel. Learn more
There are two options for your maze link. To access these options, click Copy your link on the live maze page.
Tester tracking: Record every interaction your testers perform with your maze. It might be useful to toggle off this option when sharing your live maze internally (to coworkers or friends for example) and you don't want those interactions to be recorded.
Unique session: Allow only one unique session per tester device. Disable this option to test with multiple users on the same device (e.g. during a guerrilla testing session).
Maze results
When testers begin testing your maze, you will start seeing the results in your dashboard in real-time. You can access your results on the live maze page.
Learn how to access and read your test results using this guide: Understanding your results
In addition to your results, Maze automatically creates a report for you to review and share with your colleagues, executives, and stakeholders. A report is created for every maze tested with at least one participant.
Learn more here: Your maze reports
Video tutorial