There are different ways you can have your maze tested: you can share the maze link with your own participants, or hire testers from the Maze testers panel.
This article covers recruiting testers from the Maze testers panel. If you need help finding your own testers, please read our definitive guide to recruiting research participants.
The new hired tester panel is currently being rolled out. It isn't available to all teams yet.
In this article:
Who can use this feature?
The Maze panel can be used across all plans.
All team members can place hired tester orders.
Getting started
First, you need to create a maze and send it live. If you need help creating a maze, read our guide to help you get started.
After that, you can easily recruit testers by clicking Hire from our Panel on the Share page for any live maze.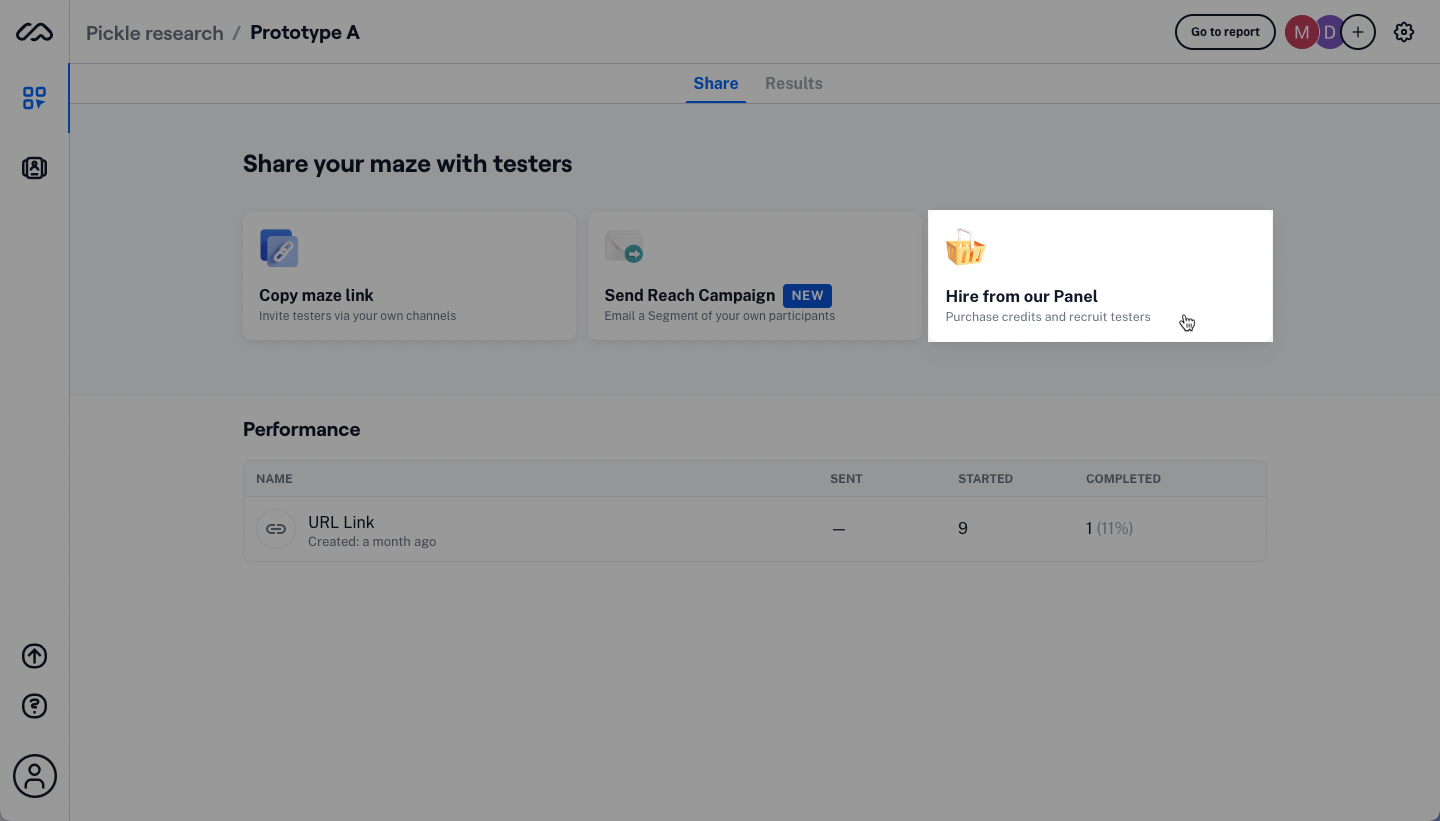 Pricing
When completing an order for testers, the equivalent amount of credits will be taken from your credit balance. The outstanding balance will be paid in credits and/or directly by credit card at checkout.
Buying credits for an individual maze
If you buy tester credits within an individual maze, you can order between 5 and 250 testers in increments of 5. Recruiting testers starts at $5 per tester for a minimal order of 5 testers, and gets cheaper with volume.
Buying credit bundles
If you buy credit bundles in bulk via app.maze.co/credits, you can use them across all your projects when ordering testers.
1 credit = 1 tester
You'll be able to purchase the following bundles:
50 credits: $5.00 per tester
100 credits: $4.75 per tester
250 credits: $4.5 per tester
500 credits: $4.25 per tester
1000 credits: $4.00 per tester
How many testers do I need?
In quantitative studies, the more users you can test with, the better the chance your results are accurate. As a rule of thumb, we recommend testing with at least 20 users.
Having more testers can be particularly helpful when doing card sorting: as more testers participate, agreement rates become easier to interpret, and you start seeing more meaningful patterns in the data.
Learn more in this article: How many testers do I need?
Criteria
You are able to select the following criteria:
Age (18-100)
Gender (Any, Man, Woman, Non-binary)
Language (learn more)
Country (learn more)
Device type (Mobile phone, Tablet reader, Tablet, Laptop, Desktop)
Industry (learn more)
Learn more about the available targeting filters
Placing an order
To place an order for hired testers:
Open the Share page of the live maze you want to test, and click Hire testers from our Panel.


Number of testers: Select the number of participants you want to include in the hired tester order. How many testers do I need?


Targeting: Fine-tune targeting criteria for potential participants, including gender, age, and language.

More restrictive criteria will shrink the pool size of potential participants. Working with a smaller participant pool may delay the fulfillment of your order.

Learn more about the estimated pool size

Advanced criteria: If needed, select advanced filters for your testers, including country, supported device, and industry.


Double-check your order details. Please note that you won't be able to edit the filters after placing the order.


Once you're ready, click Continue to payment.


On the payment step, enter your credit card number. We accept major debit/credit cards.

To complete the order, click Pay and hire testers.

When to expect results
Results start coming in as soon as your order is placed. Though orders are often fulfilled in hours, please note that we don't guarantee a particular turnaround time. Every hired tester order stays active until completed.
There are a few factors that can extend the turnaround time for tester orders:
Demographic filters may constrain the pool of potential testers, and extend the turnaround time accordingly.
The length of the test can also play a role. If the test is longer than average, you'll see a higher rate of testers abandoning it or not picking it up at all, which also slows down turnaround time.
Hired testers will appear in your Results dashboard with a "Panel session" label beneath their tester ID in the list of testers.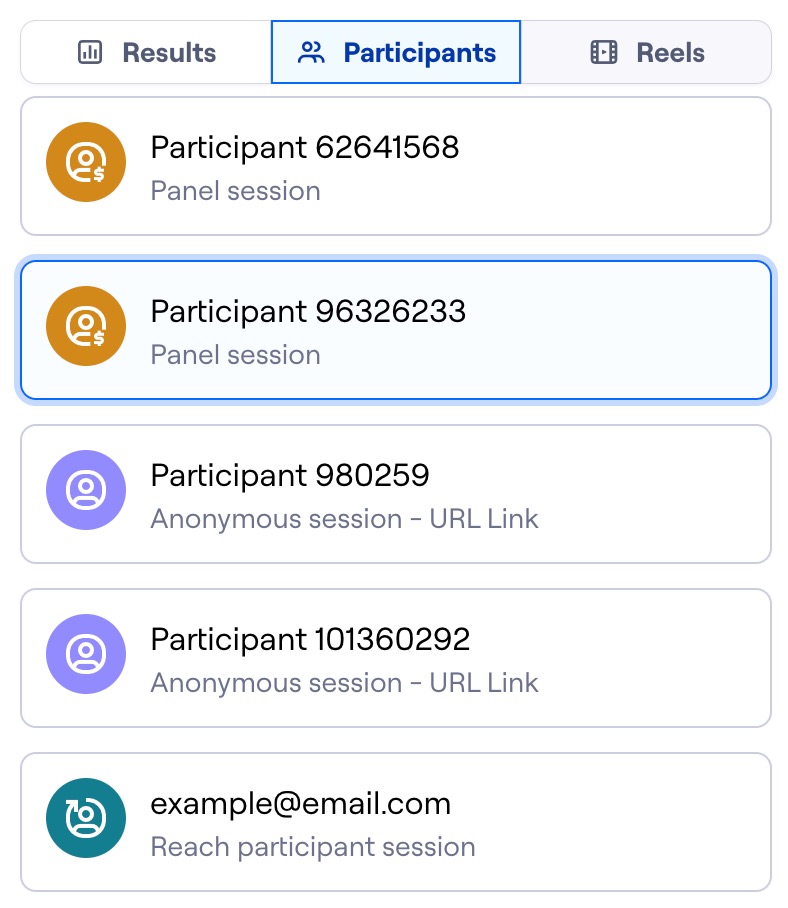 How to stop a hired test order
Tester orders do not stop automatically; they will stay active until the number of testers you've selected has completed your maze.
In some cases, you might want to stop a hired tester order before it runs its course. For instance, if you need to change the demographic filters (since those cannot be edited on active orders).
What happens when an order is stopped?
After stopping the test, any unused tester credits will be available in your credit balance.
Stop an order
To stop a hired tester order, simply stop your maze from collecting new results. You can do this in the maze settings.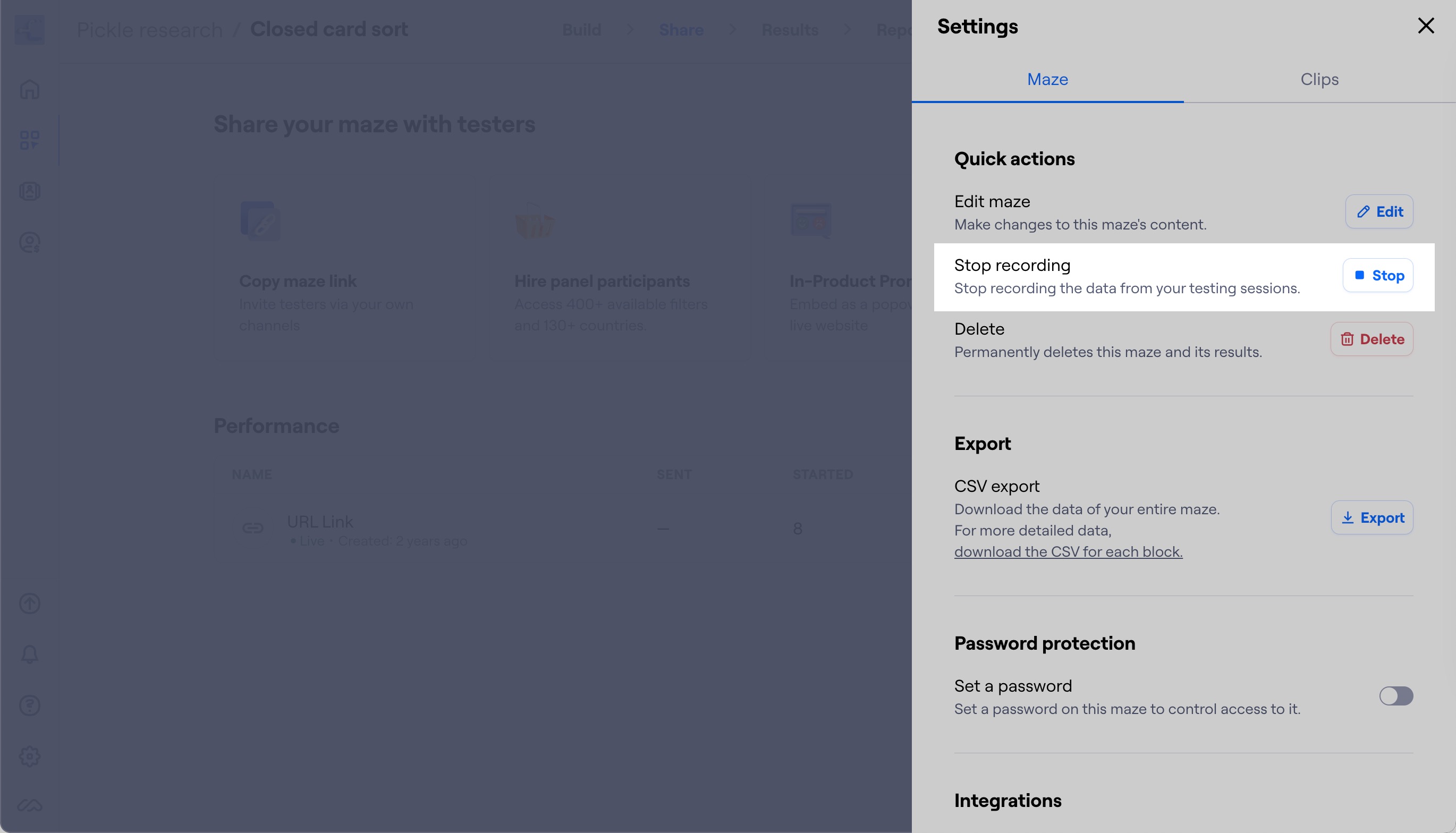 Archiving the project or deleting a maze will also stop any active orders and refund you any unused credits.
Reporting a hired tester
When recruiting testers from Maze, the quality of test results you receive is our biggest concern. Our goal is to ensure that you get results quickly and that you can trust the results to make informed decisions confidently, based on the data you've collected.
If a hired tester hasn't met your standards, you can report them from within your project's test results. Learn more here: Reporting a hired tester
Current limitations
At the moment, it isn't possible to use Clips with hired testers. To record tester sessions, you must source your own testers.
If you're doing A/B testing, please be aware that we don't currently have a way to prevent testers from taking both tests.
It's not possible to have hired testers use the PWA to complete a maze.
Still need help?
If you have any questions or concerns, please let our Support team know — we'll be happy to help!